Graduate students plan to transform Rushville grocery store into gallery/cultural center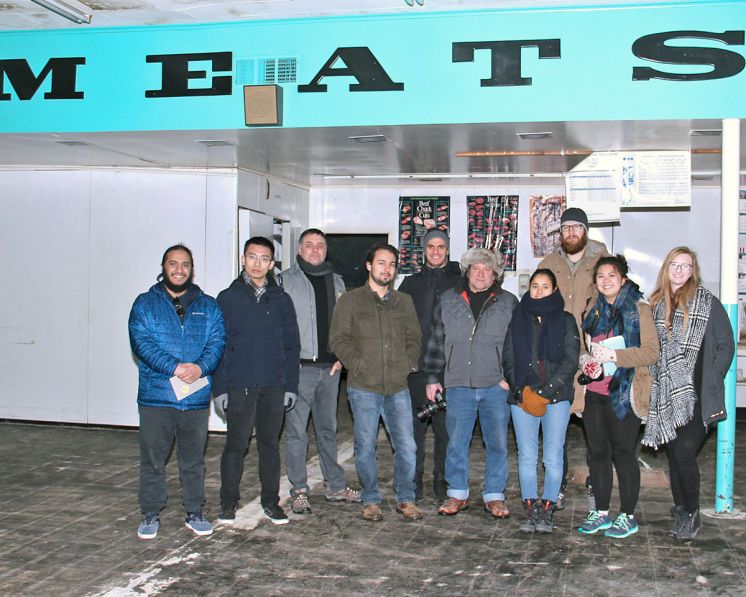 Photo by Lauren Brant
University of Nebraska-Lincoln graduate students visit the Rushville grocery store on N. Main St. as they work with Melvin Ziegler of the Sandhills Institute to create an art gallery and cultural center.
By Lauren Brant
Architecture graduate students from the University of Nebraska – Lincoln came to Rushville on Friday, January 19. They began the semester-long studio project to transform part of the old Rushville grocery store on Main St. to an art gallery/cultural center. 
Eight of the eleven students in the course made the trip to Rushville with the goal to get to know Rushville, meet with Mel Ziegler to set goals and measure the building. While at the grocery store, the students developed a conceptual plan, drew a sketch of the building and the park to the north. They will transfer these drawings into computer models and a physical model. "The plan is to have everything worked out by the end of the semester so that the project is really ready for construction," said UNL architecture professor Jeffrey Day.
Prior to coming out to Rushville, Day talked with Ziegler about the project and presented the concepts to his class. They decided to move forward with the idea and see it through. Day said the difference between other studio courses and this one is the real-world application. The students learn how to collaborate with the fabricators and builders to accomplish the project. "Rushville is a quaint little town," said UNL graduate student Diane Nguyen. "The project seems pretty interesting and I like bringing art to this small community."
The Zieglers currently own the property where the grocery store sits, but they plan to donate it to the Sandhills Institute in the next couple of months. Once the institute owns the property, Ziegler hopes to go after grant funding for the project. The Main St. location will also give the Sandhills Institute a presence in Rushville.
The space will bring together art and culture from the surrounding areas with the hope to have exhibitions and cultural programming. "I would like to bring something for the community to go to and visit art but also see the history and have pride in this building," said Megan Michalski, a student involved in the project.
The most difficult aspect for the architecture students will be reaching a consensus on the project design before they can develop construction documents or blueprints of the building. As the students discuss ideas for the building, their hope is to instill pride in the Rushville community for the new space.