Twisted Turtle celebrates 1 year in business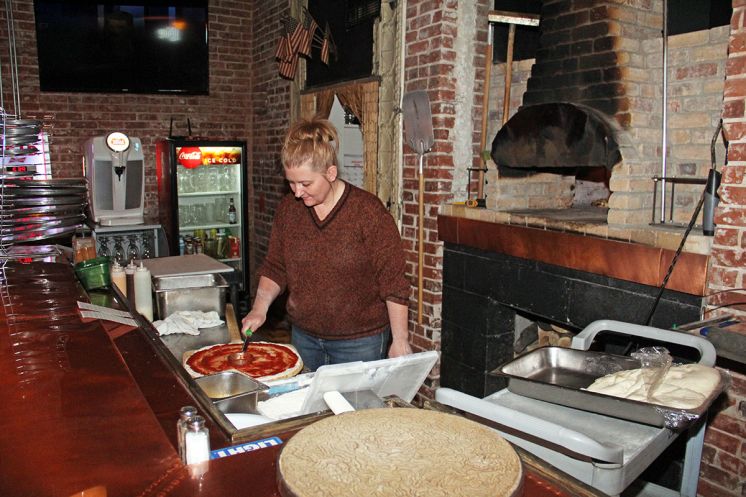 Photo by Lauren Brant
Twisted Turtle Pub owner Tosha Fuller makes a pizza for a customer as the pub achieves it's first year in business.
By Lauren Brant
Last December Courtney and Tosha Fuller opened the Twisted Turtle Pub's doors to the community and the business has flourished.
As they worked through the first few weeks of business, they kept with their vision to offer the public quality service and food. Reflecting on the year, Tosha Fuller said it has been a positive experience and the community support is amazing. Still, the most difficult aspect is keeping the customers happy and giving them a good experience.
Rushville Mayor Chris Heiser said he is glad the Fullers made the decision to open a business in Rushville. He enjoys going there because of the welcoming, friendly environment. "It's a great addition to Rushville and a much-needed addition," he said.
During business hours, the Twisted Turtle Pub staff stay busy as the word of mouth brings people from surrounding towns to Rushville. "The fact that people are willing to travel 30 or 40 mi. just to find a pizza place is still surprising," she said.
The Rushville Chamber also felt like The Twisted Turtle Pub was a good addition to Main St. "It has drawn people to our town from surrounding towns," wrote Rushville Chamber President Kris House. "Those people who have come and tried out the great fire oven pizza continue to come back and bring newcomers."
While the Twisted Turtle offers customers pizzas and salads along with a variety of non-alcoholic and alcoholic beverages in a comfortable, friendly environment, they also make food that is not on the menu. The messy mac, taco, and corned beef Reuben, and pepperoni, creme cheese, and jalapeño popper pizza are also popular items they can make to order.
With one year of business behind them, the Fullers will continue to keep it simple and make the Twisted Turtle Pub a destination.